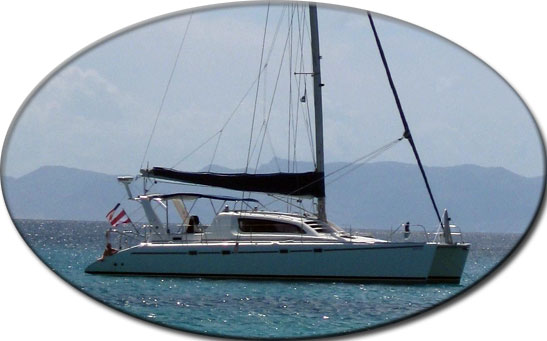 Ananda ... place of inner peace ... (Sanskrit)
Catamaran - Sailing - Greece - Aegean
with skipper + bordservice

Sailing area
We offer 1 or 2 weeks cruises from May to Octobr
z.B. Naxos - Paros - Ios- Santorini - Amorgos -
Kleine Kykladen - Mykonos - Delos - Syros
z.B. Porto Raphtis - 20 Min. vom International Airport Athen
Andros - Tinos - Kea - Kythnos - Serifos - Sifnos - Milos - Folegandros
>>> slideshow >>>
>> Picture gallery Sailing area - from Porto Raphtis to Santorini >>>
>> our ship and board impressions >>>
Prices
Our services included:
Ship ready for departure
fully provisioned
no cooperation necessary
No extra cash box
Accommodation in double cabins with private bathroom / WC
Towels, bath towels, bed linen
Welcome drink, soft drinks
Breakfast, afternoon meal
Skipper, fuel, water
Prices per person:
(children on request - extra week / days on request)
| | | |
| --- | --- | --- |
| Mai 2023 | 1 Woche / 7 Nächte | 1.190,00 Euro |
| Juni 2023 | 1 Woche / 7 Nächte | |
| Juli 2023 | 1 Woche / 7 Nächte | |
| August 2023 | 1 Woche / 7 Nächte | |
| September 2023 | 1 Woche / 7 Nächte | |
| Oktober 2023 | 1 Woche / 7 Nächte | |
Travel infos
Check in mainland Attic peninsula, East Coast

Sailing trip from Porto Raphtis

Andros - Tinos - Kea - Kythnos - Serifos - Sifnos - Milos - Folegandros

Airport Athens , with taxi about 20 min. From Porto Raphtis (approximately 20 km)
Our ship is of course on site and you
can come immediately after arriving aboard!

Check in Central Cyclades

Naxos - Paros - Ios- Santorini - Amorgos -
Kleine Kykladen - Mykonos - Delos - Syros

There are direct flights to Mykonos, Santorini (about 2 hours) from Germany, Austria or direct flight Athens with connecting flight to Paros, Naxos, Mykonos, Santorini or bus transfer about 1.5 hours to Piraeus Ferry about 5 hours of Paros, Naxos, small Cyclades .... etc.
Athens airport, bus transfer about 0.5 hrs. After Rafina (about 25 km), ferry or speedboat to Mykonos, Paros, Naxos
We shall be glad to help you in your travel arrangements!
Our ship will be on side in your desired destination (Naxos, Paros, Mykonos ...)
and you can come immediately after arriving aboard!

When planning the cruise we will gladly provide for our guest's requests - as far as the wind permits!
Among the Central Cyclades (Paros, Naxos, Mykonos ...) there are a multitude of larger and smaller islands and this allows for many different routes - see also our slideshow.

Arrival of the guests
Check-in on board the Ananda
Welcome drink and tour of the ship
Shopping together (provisions), in order to have everything we need/anyone would like for the cruise on board
There are opportunities for provisioning en route though.
If desired a sightseeing tour of the place of arrival - with us as your guides.
Mutual planning of the cruise
Setting sail - wherever the wind takes us ....



A day on board
Good morning ... Kali Mera!

After awakening in a beautiful anchorage
Early-morning wake-up swim or snorkel
Walk on the beach
Having an ample breakfast together
Possibly an island excursion
Heading for new shores...
We cast off and set sail
Are there dolphins cavorting between the islands?!?
Afternoon, heading for a bay to anchor
Water sports
Sailing makes us hungry - a hearty snack (Greek salad, Tzatziki...)
Casting off and proceeding to the next harbor or village
Docking or dropping anchor
Sunset drink
Walk with subsequent tavern visit
Dinner, visiting a bar or returning to ship
Have a drink on board

Good night.... Kali Nichta!



Contact
Renate und Gerhard Six
Mai - Okt: 0030 6942775128 (mobil am Schiff)
0049 175 8241894 (mobil)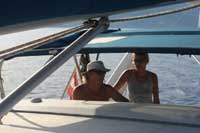 Ship
ISpring 2008 - Chesapeake Bay, Oxford, Maryland, USA: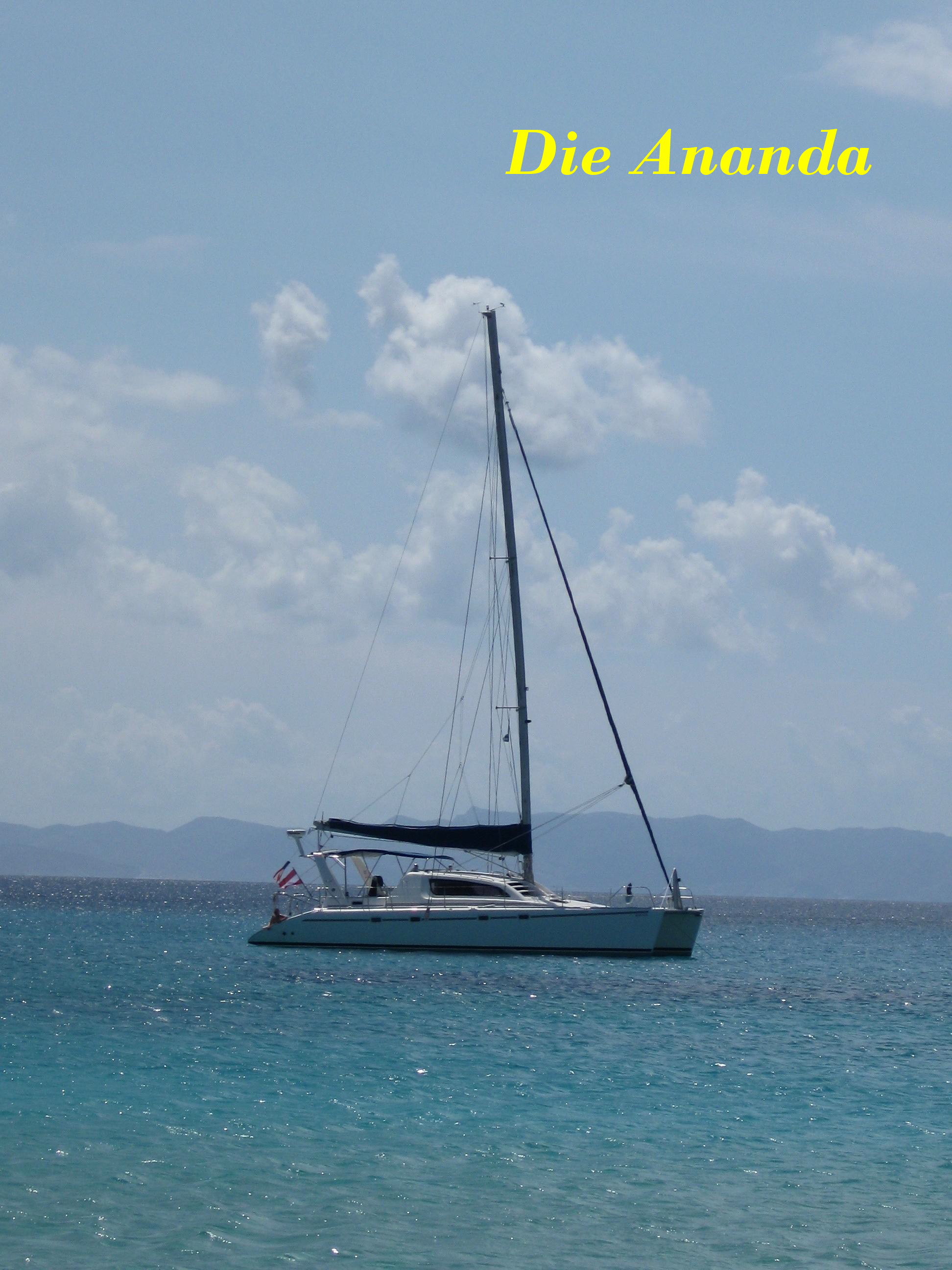 We've found our ship!
Ananda is a Leopard 47 feet (about 15 meters) sailing catamaran, a very solid and well-proven design,
built by Robertson & Caine, one expresses renowned shipyard in Cape Town, South Africa.
Moorings, the world's largest charter fleet can build their ships there.
After a total overhaul Ananda was brought to Europe.
Innovations and additional equipment:
2020 Mainsail - Hydranet - triradial square top
2018 Replaced the folding hood above the outside seats with a solarpanel
2017 Installed new toilets in every cabin
2016 Desalination of the water treatment plant
2015 Renewed the outside seat groups upholstery
2014 Mainsail - Laminate triradial square top + slats
2013 headsail - Laminate triradial, bimini top
2011 Ais Raymarine, dinghy Persenning
2009 Salon upholstered entirely in leather Mercedes + Alcantara, high quality foam padding
2008 radar Raymarine, Large multi-function screen Raymarine, EPIRB, Motorola Satellite Telephone, Zodiac hard floor dinghy, outboard Yamaha 8 Ps four stroke, sea anchor, bow anchor
Legal notice
Name and address

Gerhard Six
Hadrawagasse 55
A-1220 Wien
info@kat-ananda.com

Finanzamt Wien 2/20/21/22
UST.-ID: ATU 20529300

Layout & Design:
---
data protection
ponsible body in the sense of the data protection laws, in particular the EU data protection basic regulation (DSGVO), is:

Gerhard Six

Your victims rights

You can always exercise the following rights under the contact details of our data protection officer:

Information about your stored data and their processing (Art. 15 GDPR),

Correction of incorrect personal data (Art. 16 GDPR),

Deletion of your stored data (Art. 17 GDPR),

Restriction of data processing, insofar as we are not yet allowed to delete your data due to legal obligations (Art. 18 GDPR),

Objection to the processing of your data by us (Article 21 GDPR) and

Data portability, provided you have consented to the processing of data or have concluded a contract with us (Article 20 GDPR).


If you have given us your consent, you can withdraw it at any time with effect for the future.

You can contact a regulatory authority at any time with a complaint, such as: B. to the competent supervisory authority of the federal state of your domicile or to the authority responsible for us as responsible authority.

A list of the supervisory authorities (for the non-public area) with address can be found at: https://www.bfdi.bund.de/DE/Infothek/Anschriften_Links/anschriften_links-node.html.

Provision of paid services

Type and purpose of processing:

To provide paid services we ask for additional data, such as: Payment details to complete your order.

Legal basis:

The processing of the data required for the conclusion of the contract is based on Art. 6 para. 1 lit. b DSGVO.

Receiver:

The recipient of the data may be a processor.

Storage time:

We store this data in our systems until the legal retention periods have expired. These are generally 6 or 10 years for reasons of proper bookkeeping and tax requirements.

Provision required or required:

The provision of your personal data is voluntary. Without the provision of your personal data, we can not grant you access to our content and services offered.

SSL encryption

To protect the security of your data during transmission, we use state-of-the-art encryption techniques (such as SSL) over HTTPS.

Change of our privacy policy

We reserve the right to amend this privacy policy to always comply with the latest legal requirements or to implement changes to our services in the privacy policy, e.g. when introducing new services. Your new visit will be subject to the new privacy policy.

Questions to the data protection officer

If you have questions about privacy, please email us or contact the person responsible for data protection in our organization: Gerhard Six info@kat-ananda.com

The privacy policy has been created with the privacy statement generator of activeMind AG (version 2018-06-22).
Segeln,Segeln in Griechenland,Segeln in Griechenland Kykladen,Mitsegeln,Mitsegeln auf Katamaran Ananda in Griechenland,Mitsegeln in Griechenland Kykladen,Katamaran,Paros,Naxos,Mykonos,Meltemi,Segeln in der Ägäis,Katsegeln Naxos,Segelurlaub,Segelurlaub Naxos,Paros,Mykonos,Sailing Holidays Greece,
Sailing Cyclades,Sailing on Catamaran Mykonos,Naxos,Paros